The purpose of the 1st visit is to determine how we can help you maximize your health potential. The main objective during this appointment is to determine the cause of your health problem.
---

Patient Forms
Upon entering our office, our Chiropractic Assistant will welcome you. We request that you fill out the New Patient Application Form prior to your appointment. This paperwork provides us with important information regarding your health history and current condition, which will help us determine what the cause of the problem may be.
---

Consultation
Next, you will have a consultation with one of our doctors to discuss your health-related problems, concerns, and potential solutions. This initial visit helps the doctor learn more about you, your condition, and expectation in order to determine how we can best help you meet your goals. This is the key to the incredible results patients experience in our clinic.
---
Examination
After your consultation, the doctor will perform a complete chiropractic examination to determine the cause of your health problem. Any necessary neurological, orthopedic, postural, and physical examination tests will be performed. One of the benefits our clinic has to offer is the use of both the neuroTHERMAL and neuroCORE technologies that objectively test how well your nervous system is functioning and how your muscle tone has adapted to the demands you have put on your body.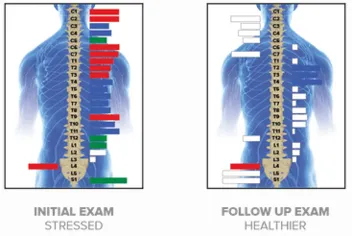 ---
X-Ray
Depending on the results of the examination, you may need to have X-rays taken. X-rays are extremely valuable in alerting the doctors of any serious conditions and also in developing the most effective care plan for you. Also, if we determine that we can help you, and we accept you as a patient, X-rays give us information that will allow us to be very specific with your adjustments. This way, there is never any speculation when it comes to taking care of your spine.
---
Before you go
Prior to leaving your initial visit, our team will help you schedule your second visit to review your X-rays, go over your care options and answer any insurance and financial questions.